Voldoende laadcapaciteit voor zo snel mogelijk opladen
U wilt natuurlijk uw BYD Atto 3 zo snel mogelijk kunnen opladen. Kies daarom voor een laadpaal met minstens 11 kW, ofwel evenveel als de laadcapaciteit van de Atto 3. Vergeet niet dat een dergelijke lader een 3-fase 3 X 16A elektrische aansluiting vereist – anders kunt u uw laadstation niet op volle capaciteit gebruiken.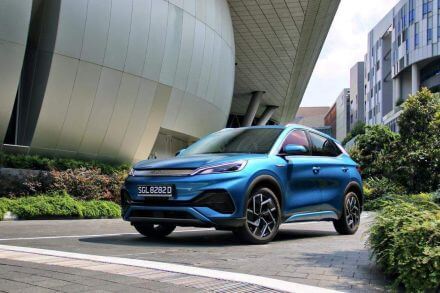 Laadpaal of wandlader: welke is geschikt voor uw BYD Atto 3?
Staar u niet blind op de keuze tussen een laadpaal en een wandlader. Welke voor u en uw BYD Atto 3 geschikt is hangt vooral af van de beoogde parkeer- en laadplek. Is dit onder de carport of in de garage? Dan is een wandlader waarschijnlijk de betere keuze. Komt uw Atto 3 verder weg van uw woning t bestaan of is een wandlader om een andere reden geen optie? In dat geval biedt een flexibelere laadpaal uitkomst. Twijfelt u over welke laadoplossing u moet hebben? Schroom dan niet om contact met ons op te nemen.
Installatiepakket
Ook voor de installatie van uw nieuwe lader kunt u bij ons terecht. Kies voor onze installatie en een bij ons aangesloten, gecertificeerd monteur komt uw laadstation plaatsen en aansluiten. Dit doet hij of zij uiteraard op vakkundige wijze en op een dag(deel) dat u uitkomt.
Hoe lang duurt het om de BYD Atto 3 op te laden?
Benieuwd naar de laadtijd van de BYD Atto 3? Deze rekent u uit aan de hand van de volgende rekensom:
Laadtijd: ( Accucapaciteit / AC-laadvermogen ) / 0,85
De maximaal bruikbare accucapaciteit van de Atto 3 en het AC-laadvermogen van de boordlader 11 kW. De '0,85' is een constante die ervoor zorgt dat het energieverlies tijdens het laadproces – doorgaans zo'n 15% — ook wordt meegerekend. Vullen we deze gegevens in, dan komen we uit op de volgende laadtijd:
Laadtijd BYD Atto 3: ( 60 kW / 11 kW ) / 0,85 = 6,42 uur = 6 uur en 25 minuten
Bovenstaande rekensom is slechts een schatting. De laadtijd kan in de praktijk lager of hoger zijn als gevolg van externe factoren. Zo weten we dat de omgevingstemperatuur een rol speelt en ook dat de staat van de elektrische aansluiting invloed heeft op de laadtijd.
Zakelijk opladen
In principe zijn alle laders uit ons assortiment geschikt voor zowel particulier als zakelijk gebruik. Wel is het zo dat sommige modellen zich beter lenen voor zakelijk gebruik. Deze beschikken bijvoorbeeld over een dubbele socket, een vaste laadkabel en handige functies, zoals een back office.