Welke lader is geschikt voor de MG ZS EV?
Welke lader geschikt is voor uw MG ZS EV hangt voornamelijk af van welke uitvoering u heeft. Bent u in bezit van de ZS EV Standard Range? Dan heeft u een lader nodig met minimaal 6,6 kW aan AC-laadvermogen, die op zijn beurt een elektrische installatie met een 1-fase 1 X 32A aansluiting vereist. Zoekt u een geschikte laadpaal voor uw MG ZS EV Long Range? In dat geval heeft u een model nodig met meer AC-laadvermogen, namelijk een met minimaal 11 kW aan AC-laadcapaciteit. Om deze laadcapaciteit volledig te benutten is een 3-fase 3 x 16A aansluiting noodzakelijk. Heeft u laatstgenoemde niet? Geen zorgen: onze monteurs kunnen uw elektrische installatie probleemloos uitbreiden.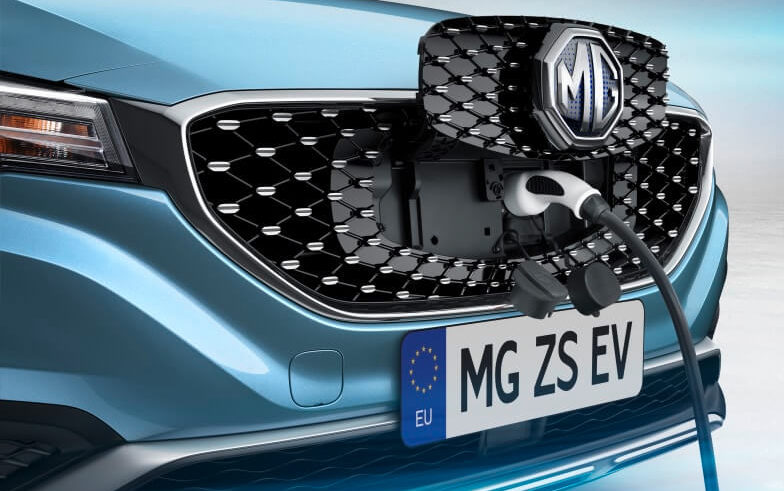 Laadpaal of wandlader?
Hét grote verschil tussen een laadpaal en wandlader is de wijze van montage. Een laadpaal wordt, zoals de naam suggereert, op een paal geplaatst, terwijl een wandlader tegen een muur wordt geplaatst. Een wandlader is ideaal als u uw MG ZS EV in de garage, onder de carport of vlakbij uw huis wilt opladen. Een laadpaal is vaak wat flexibeler en biedt uitkomst als er geen enkele muur in de buurt van de beoogde laadplek is. Twijfelt u? Een tip: beeld u zich in hoe de laadkabel zal komen te lopen. Vaak blijkt hieruit al welk type laadstation het handigste is.
Geen zorgen over de installatie
Wij regelen de hele installatie voor u. Een bij ons aangesloten, gecertificeerde monteur regelt de hele installatie van A t/m Z. Tenminste, als u voor ons installatiepakket kiest. Dit raden wij wel aan, aangezien de installatie van uw nieuwe lader nogal wat technische knowhow vereist – helemaal als ook uw stoppenkast moet worden aangepast.
Wat is de laadtijd van de MG ZS EV?
De exacte laadtijd van de MG ZS EV hangt af van talloze interne en externe factoren. Denk hierbij aan de maximale accucapaciteit, het AC-laadvermogen, de staat en leeftijd van de accu, de staat van uw elektrische installatie, de omgevingstemperatuur en nog veel meer. Dit alles maakt het redelijk lastig om de exacte laadtijd te berekenen.
Zelf berekenen?
Gelukkig is er handige, eenvoudige vuistregel waarmee u toch een goed idee krijgt van de te verwachten laadtijd. Deze rekensom ziet er als volgt uit:
Accucapaciteit / AC-laadvermogen / Energieverlies = Laadtijd in uren
Vullen we de gegevens van beide uitvoeringen van de MG ZS EV in deze formule in, dan krijgen we de volgende laadtijden:
Standard Range: 48 kWh / 6,6 kW / 0,85 = 8,56 uur = 8 uur en 34 minuten
Long Range: 68,3 kWh / 11 kW / 0,85 = 7,3 uur = 7 uur en 18 minuten
Verschilt het laadvermogen van uw lader van dat van uw MG ZS EV? Gebruik in dat geval de laagste waarde van de twee.  
Ook geschikt voor zakelijke rijders
In principe zijn alle laders in ons assortiment geschikt voor particulier én zakelijk gebruik. Daarnaast bestaat ons programma uit laders van verschillende merken, elk met zijn eigen unieke features en ideale toepassingen. Dit betekent dat wij iedereen een passende laadoplossing kunnen aanbieden.