Niet alle laders zijn geschikt voor de Mercedes EQE
Welke laders allemaal geschikt zijn voor uw Mercedes EQE kunt u vaststellen aan de hand van het AC-laadvermogen van de elektrische sedan. Om het 11 kW AC-laadvermogen van de EQE volledig te benutten heeft u laadstation met minimaal evenveel laadcapaciteit nodig. Dit vereist op zijn beurt een 3-fase 3 x 16A elektrische aansluiting. Vergeet daarnaast niet rekening te houden met de laadaansluiting van de Mercedes EQE (Type 2).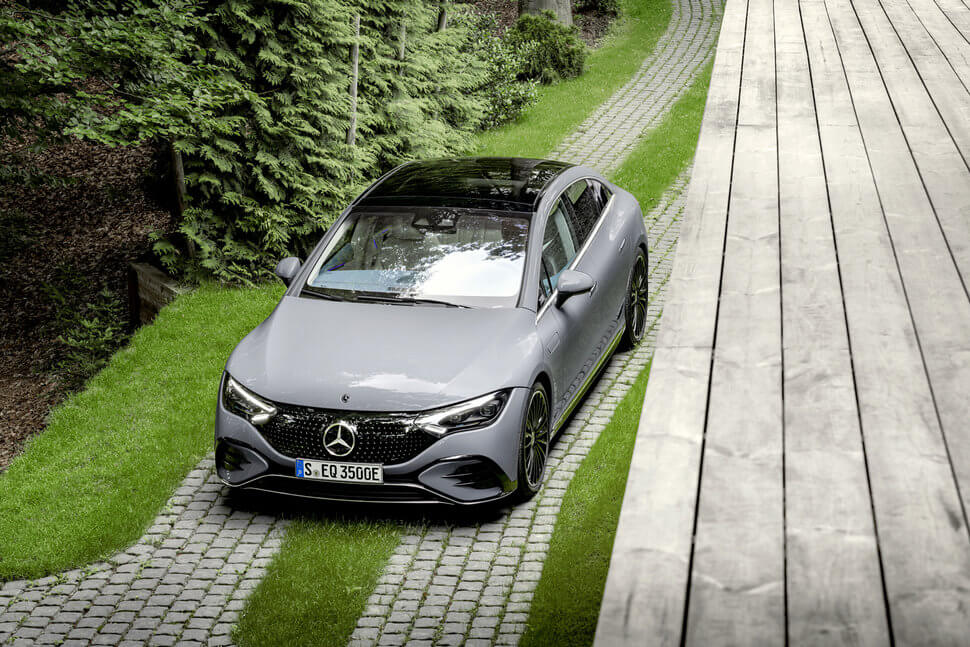 Laadpaal of wandlader?
Staar u niet blind op de keuze tussen een laadpaal en een wandlader. Hét grote verschil is namelijk de manier waarop de laadoplossing gemonteerd wordt. De een (wandlader) wordt tegen de wand gemonteerd, de ander (laadpaal) op een paal. Bij deze keuze draait het daarom vooral om de beoogde plek waar u uw Mercedes EQE wilt opladen. Is dit in de buurt van een muur? Dan is een wandlader wellicht de beste optie. Zo niet, dan is een laadpaal hoogstwaarschijnlijk de beste keuze. Iets om ook rekening mee te houden: loopt de aansluitleiding van de groepenkast naar de laadpaal of wandlader op een beetje logische manier?
Optioneel installatiepakket
Heeft u twee linkerhanden? Of waagt u zich om andere redenen liever niet aan de installatie van uw lader? Kies dan voor ons installatiepakket. Een bij ons aangesloten, gecertificeerde installateur regelt de installatie van A t/m Z en levert uw laadoplossing geheel gebruikslaar op.
Hoelang duurt het om de Mercedes EQE op te laden?
Bent u benieuwd naar de laadtijd van uw Mercedes EQE? U rekent deze relatief eenvoudig uit met behulp van deze rekensom:
( Accucapaciteit / AC-laadvermogen ) / Energieverlies = laadtijd in uren
Door de accucapaciteit te delen door het AC-laadvermogen – dat doorgaans in kW (kilowatt) wordt aangegeven – kunnen we bepalen hoeveel uur er nodig is om de accu volledig te vullen. Vervolgens delen we de uitkomst hiervan door 0,85 – zo houden we namelijk ook rekening met het energieverlies dat optreedt tijdens het laden. Voor de Mercedes EQE is deze berekening als volgt:
( 90 kWh / 11 kW ) / 0,85 =  9,63 uur = 9 uur en 38 minuten
Overigens moet er bij deze berekening met twee dingen rekening worden gehouden. Ten eerste moet u de laagste waarde gebruiken wanneer het laadvermogen van uw lader en uw Mercedes EQE niet gelijk zijn. Ten tweede kan de laadtijd in de praktijk afwijken als gevolg van de omgevingstemperatuur en de staat van uw elektrische aansluiting.
Geschikt voor particulier én zakelijk gebruik
Al onze laders zijn in principe geschikt voor zowel particulier als zakelijk gebruik. Bovendien bestaat ons aanbod uit uiteenlopende modellen van diverse merken – elk met zijn eigen unieke features, voor- en nadelen en ideale toepassingen. Hierdoor kunnen wij iedere gebruiker een passende laadoplossing aanbieden, wat de wensen en eisen ook zijn.