Welke laadpalen en wandladers geschikt voor de Genesis GV60?
Hoe bepaalt u welke laders geschikt zijn voor uw Genesis? Dit draait vooral om het benodigde laadvermogen. U heeft minimaal een laadstation nodig die over evenveel AC-laadcapaciteit beschikt als de GV60, ofwel 11 kW. Dit vereist op zijn beurt een 3-fase 3 X 16A aansluiting.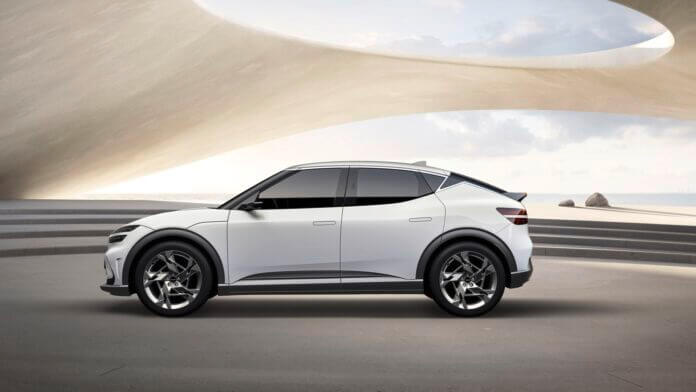 Laadpaal of wandlader
De keuze tussen een laadpaal en wandlader wordt vaak onnodig ingewikkeld gemaakt. Aangezien beide 'types' laadstation qua techniek nagenoeg identiek zijn, hangt welk type geschikt is voor u voornamelijk af van de beoogde laadplek van uw EV60. Is dit een plek waar een wandlader het beste tot zijn recht komt – denk hierbij aan in de garage of onder de carport – of komt een laadpaal toch beter uit de verf? Beeld u in hoe de laadkabel zal komen te lopen en hak op basis hiervan de knoop door.
Laaddirect installatiepakket
Heeft u twee linkerhanden? Geen zorgen: dankzij ons installatiepakket hoeft u zich niet aan de installatie van uw nieuwe lader te wagen. Wij nemen deze klus geheel uit handen en voorzorgen alles tot in de puntjes.
Wat is de laadtijd van de Genesis GV60?
De laadtijd van uw Genesis GV60 hangt af van allerlei factoren. Denk hierbij aan interne factoren, zoals de accucapaciteit en het AC-laadvermogen, én aan externe factoren, bijvoorbeeld de temperatuur of staat van uw elektrische aansluiting. Dit maakt het lastig om de laadtijd van uw GV60 te bepalen.
Gelukkig is er handige rekensom waarmee u binnen enkele minuten een aardig idee heeft van de te verwachten laadtijd. Deze som ziet er als volgt uit:
( Accucapaciteit / AC-laadvermogen ) / 0,85 = laadtijd in minuten
Vullen we de specificaties van de GV60 in, dan komen we op een laadtijd van circa 8 uur en 14 minuten:
77 kWh / 11 kW / 0,85 = 8,24 uur = 8 uur en 14 minuten
Niet perfect
Bovenstaande rekensom is niet perfect. Het is immers slechts een schatting. Houd daarom in uw achterhoofd dat de werkelijke laadtijd hoger of lager kan uitvallen.
Ook geschikt voor zakelijk gebruik
Ook als u uw Genesis GV60 zakelijk wilt opladen bent u bij Laaddirect aan het juiste adres. In principe zijn al onze laders geschikt voor particulier en zakelijk gebruik. Daarnaast beschikken veel van de laders in ons programma over functies die ideaal zijn voor zakelijke toepassingen. Denk hierbij aan een backoffice, kWh-meter of Load Balancing-functie.