Welke laadpalen zijn geschikt voor de Skoda Enyaq Coupé?
Welke laadpalen en wallboxen geschikt zijn voor uw Skoda Enyaq Coupé draait vooral om het AC-laadvermogen. Aangezien de Enyaq Coupé 11 kW aan AC-laadvermogen heeft, heeft u een lader nodig met minstens evenveel laadcapaciteit. Hiermee weet u zeker dat u uw Enyaq Coupé zo snel mogelijk oplaadt. Een lader met 11 kW aan AC-laadvermogen vereist op zijn beurt een 3-fase 3 X 16A elektrische aansluiting.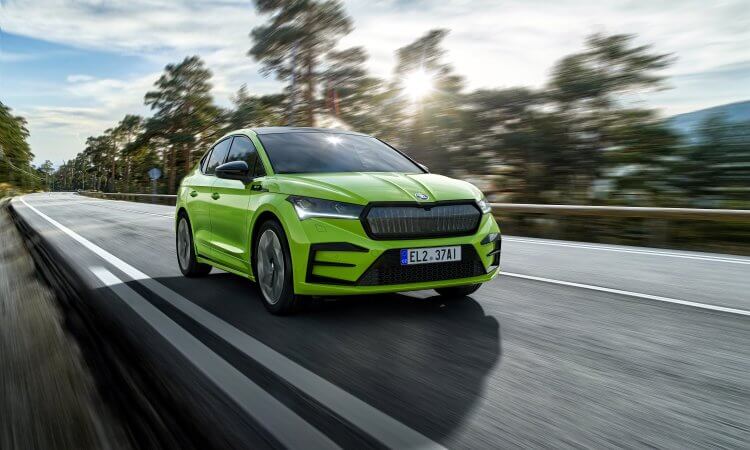 Wandlader of laadpaal?
Staar u niet blind op de keuze tussen een wandpaal en een wandlader. Welke voor u geschikt is hangt namelijk af van de beoogde laadplek van uw Enyaq Coupé. Is dit in de buurt van een muur, bijvoorbeeld onder de carport of in de garage? Dan is een wandlader waarschijnlijk het handigste. Is dit niet het geval, dan is de kans groot dat een laadpaal uitkomst biedt. Komt u er niet uit? Schroom dan niet om contact met ons op te nemen voor advies.
Installatiepakket
Dankzij ons installatiepakket hoeft u zich geen zorgen te maken over de installatie van uw laadstation. Een bij ons aangesloten monteur neemt al het werk uit handen. Dat scheelt u een hoop kopzorgen.
Zelf de laadtijd van de Skoda Enyaq Coupé berekenen
Bent u benieuwd naar de laadtijd van de Skoda Enyaq Coupé? Deze rekent u eenvoudig uit aan de hand van de volgende rekensom. Eerst deelt u de maximale accucapaciteit van uw Coupé, 58 of 77 kWh, door het AC-laadvermogen, 11 kW. Vervolgens deelt u de uitkomst hiervan door 0,85. Dit in verband met het energieverlies dat tijdens het laden optreedt. Dit geeft ons de volgende laadtijden voor de verschillende uitvoeringen van de Skoda Enyaq Coupé:
Enyaq Coupé iV 60: 58 kWh / 11 kW / 0,85 = 6,2 uur = 6 uur en 12 minuten
Enyaq Coupe iV 80 / 80X / RS: 77 kWh / 11 kW / 0,85 =  8,24 uur = 8 uur en 14 minuten
Kanttekeningen
Het is van belang om te realiseren dat bovenstaande berekeningen slechts een schatting van de te verwachten laadtijd zijn. De werkelijke laadtijd kan hoger of lager uitvallen als gevolg van de omgevingstemperatuur, het laadvermogen van uw laadstation en de staat van uw elektrische aansluiting.
Welke laders geschikt voor zakelijk gebruik i.c.m. Enyaq Coupé?
In principe zijn al onze laders geschikt voor gebruik op bedrijf, thuis of elders. Bij ons kunt u dus ook terecht als u een laadoplossing zoekt die u zakelijk wilt gebruiken in combinatie met uw Skoda Enyaq Coupé.